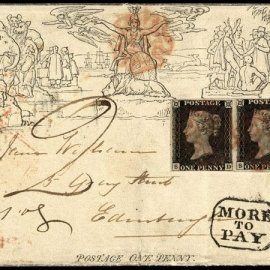 Background
Sevenoaks was the main postal town in the district from the earliest days, it being a stop on the main mail coach route between London and the Continent via Rye. Wrotham was also on a stagecoach route (London – Hythe) and had a Branch Post Office at the Bull Hotel from 1786. Long before there were officially recognised post offices outside of the main coach routes there were places where letters could be left or accepted, sorted or passed on. Prior to 1800 these places were mostly public houses.
Post was the only available means of communication until 1871 when the Telegraph was introduced and it was not until 1912 locally, that the telephone was introduced. Both the Telegraph and telephone were introduced by the post office. Telephone call boxes were introduced in Fairseat in 1923 and in Stansted in 1930.
Prior to 1840 there were 13 post offices in the Sevenoaks district and between 1841 and 1920 a further 27 local post offices were opened including Fairseat in 1871 and Stansted in 1897.
Prior to these dates post had been delivered to and collected from the villages via Sevenoaks post office and the Wrotham branch office. In 1846 the Wrotham messenger to Fairseat, Stansted, Kingsdown and Ash was paid 12 shillings a week and in 1910 the route from Wrotham to Fairseat and Stansted was upgraded from footpost to cyclepost.
Sub postmasters were contractors to the Post Office and not employees. Also they were not necessarily the person behind the counter – William Webb in Stansted for instance was a wheelwright so could not attend to postal business all the time the office was open. So often it might be a spouse, a relative or an employee (full or part time) who handled the counter work.
Stansted Post Office in High Tree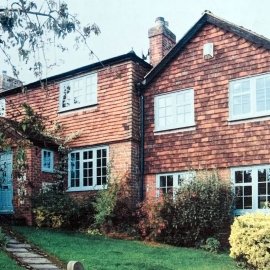 Note: Much of the information on High Tree in this article was provided by the current owners Jill and Mark Malone and was researched by Jill's mother, Frances Eccleshall.
Stansted Post Office opened on 13th June 1897 (26 years after Fairseat Post Office), and was based in what is now High Tree in Tumblefield Road. In those days the stretch of road between the Black Horse and Goodman's Farm was called The Street (or The Village) and there were only four properties; three houses and a Smithy. Only the Smithy was shown on the Tithe map of 1841.
In 1897 the property was in the first house up the hill from the Black Horse and was the family home of William Webb who was a carpenter and wheelwright. By the time of the 1901 census he was 55 years old and was recorded as a builder and sub-postmaster. The property was listed as the Post Office. He lived with his wife Maria (57) and his daughters Alice (29) and Elizabeth (27). Elizabeth worked as an assistant in the post office and Alice was a domestic parlourmaid.
Post was delivered and collected from Wrotham and in 1908 the postman was Walter Lawrence. The Licenced Stamp Seller was Florence Toole.  Post Office records are sparse but show that Postal Orders were sold [Note: Postal Orders were a way of sending money through the post].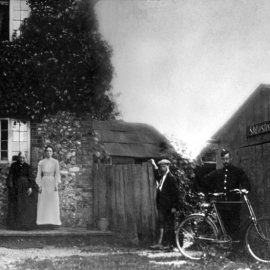 The photograph shows Maria and Alice Webb outside the Stansted Post Office in 1910 which would have been just after the introduction of the bicycle to the post route. Maria Webb would have been 68 and Alice Webb 39.
There is no record of there ever being a shop associated with the Post Office while it was at High Tree. In 1891 Joseph Hills at the Black Horse was recorded as being a Publican and Grocer and it seems likely that the shop was located there instead.
In the 1911 census, William Webb was listed as a builder living with his wife and daughter Alice who had taken over as the post office assistant. His wife, Maria was absent on census day and died a few months later.
William died in 1924 and the Post Office probably closed at that point – or, conceivably, remained open until 1926 when his daughter Alice died. He, Maria, Alice and Elizabeth are all buried in St Mary's churchyard. Their memorial is a large marble headstone with lead lettering marking the following inscription:
In ever loving memory of  Maria, the beloved wife of WILLIAM WEBB  died 15th November 1911 aged 69 years
"God is love"
also of the above WILLIAM WEBB died 28th December 1924 aged 79 years
"Abide with me"
also, the daughters of the above ALICE MARY died 20th 1926 aged 55 years and ELIZABETH REBECCA  died 28th June 1956 aged 82 years.
William also has a commemorative marble wall tablet inside the church inscribed "To the memory of WILLIAM WEBB, 67 years chorister and 52 years clerk of this church born 1845, died 1924."
Post Office in Hatham Green Lane
The Post Office then reopened sometime in 1926/27 to what is now the Old Post Office in Hatham Green Lane next to Hook and Hatchet Cottages where it continued until 1988/89.
A shop had existed there for some time prior to 1926 as there is a 1911 record of it being run by John and Alice Brooker of the well known Brooker family.  The property was called 'Derricks'.  As previously mentioned, in 1891 Joseph Hills at the Black Horse was listed as a grocer.  Ten years later in 1901, Joseph Hills was the publican (but was not listed as a grocer or shopkeeper).
[Note: The records then become less clear. The following has been compiled from Post Office records and from local research but there are gaps and there may be inaccuracies.]
The Post Office in Hatham Green Lane was opened in 1926/7 by William Josiah Tanton, grocer and he continued for seven years until his death in 1934.
Jonathan Burgess Leaver is recorded as Sub-Postmaster in 1938 and it seems that he may have continued until 1944. It also seems that Mrs Tanton continued helping in the stores after her husband died in 1934 up until 1944.  During this time the Post Office was colocated with Leaver's Stores (a grocer who also traded at East Farleigh) and occupied both the Old Post Office and what is now Virginia Cottage.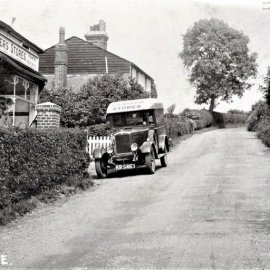 The Post Office Stores were then run by George Maynard and his wife Ada.  It is possible that George was recorded in 1939 Register as a Grocer's Manager so it is probable that he ran just the shop.  Their shop catered for the whole of Stansted providing postal services, rations and general supplies. Paraffin was popular as there was no mains electricity.  The Faiseat Post Office did not supply groceries during the war so it is likely that many Fairseat residents shopped here too.  In December 1939 the Kent Messenger newspaper included the following in an article about Stansted "The village has one shop and there you can purchase everything.  There is a Post Office attached but the money order and telegraph office is at Fairseat, a mile or so away from the centre of the village."
The shop continued to be run by George and Ada Maynard's son Les when he returned from war service and there is a note that he was running the shop in 1957.
Long-time resident of Stansted Sheila Parker (nee Brown) recalls:
"We had a small village general grocery shop and post office in Hatham Green Lane, very ably run by George and Ada Maynard. Registration was necessary and ration books had to be left with your chosen retailer.  Every week the family allowances of rationed goods, which was almost everything, were weighed, packed and delivered to your home. Households in Stansted needed paraffin for lighting and that too was sold from Maynard's big shed just below the shop."
From about 1970 Ann and Alan Ridge ran the shop and Post Office in Hatham Green Lane.  The grocers closed but the Post Office continued until 1988 when it also closed at this location.
The Post Office reopened in January 1989 at the Black Horse offering a limited service when Brian Keast became Sub-Postmaster, aided by his wife Mary.  It closed for the last time in 1999 after just over 100 years when Brian and Mary Keast retired and the Black Horse public house changed hands.
Author: Dick Hogbin
Editor: Tony Piper
Contributors: Adrien Sturgeon, Frances Eccleshall, Jill Malone, Sheila Parker
Acknowledgements: 'The Posts of Sevenoaks in Kent' by Archibald Donald
Last Updated: 09 January 2021