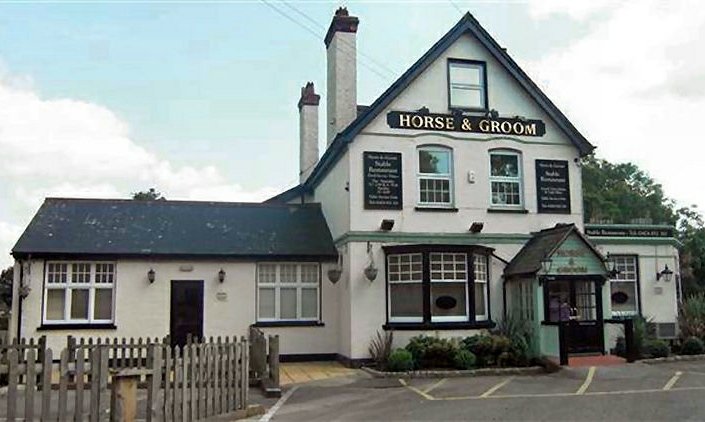 The Horse & Groom is situated by the side of the A20 on the western edge of Stansted Parish. Being positioned on the edge of a major road and in a sparsely populated area, the Inn was well placed to cater for passing travellers either on foot or by horse, providing food, drinks and rest to people and their horses. With the advent of popular travel by motor car in the 1920s, the Inn offered fuel and parking for vehicles.
The original property was built between 1770 and 1775 by John Martin who was a 'wheeler' (wheelwright) and was a fourth-generation member of a Stansted family of wheelwrights. The earliest official record of the property as a public house is in 1841 as indicated by tithe, licensee, and census records.
The following is a list of some of the occupants of the Horse and Groom over the years. Some of the dates may vary by a year or two, depending on which reference is used: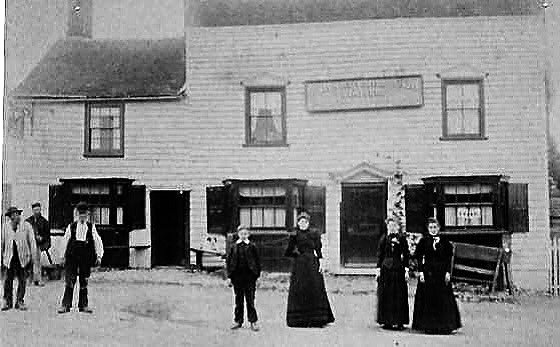 1775 John Martin. Four generations of the Martin family lived in Stansted and were all wheelers or wheelwrights, three of whom were named John and one James. In the 1676 Compton census, five male Martins were living in Stansted. Between 1770 and 1775 John (the fourth generation) built the pub which he called the Horse and Groom and lived there, running the pub, and giving up his profession as a wheelwright. In 1778 he sold the property to John Seager of Maidstone, a brewer who leased it back to him for ten years. The Seager family were proprietors of the Lower Brewery in Maidstone and owned several pubs. In about 1800 they sold the business to the forerunners of Messrs Isherwood Foster and Stacey and it is possible to see the Isherwood Foster and Stacey name of the Brewery above the door in the picture below. The building in this picture bears no resemblance to the current building and it is assumed that the original structure was demolished or burned down and subsequently the new brick structure was constructed. It is thought that this would have taken place in the late 1880s.
1841 Thomas Clements, 40 years old, is recorded as the Licensee. Owner: John Brenchley Esq. (Source: Tithe Award schedule). The 1841 Census records that Thomas lived with Lydia (35), son Thomas (9) and daughters Emma (8) and Jane (7). Also living there on census night were Maria Newman (25) Female Servant and John Martin (45) Wheelwright. In 1847 Thomas Verralls is listed as the Victualler (Bagshaw's directory).
The 1851 Census records William Constable (56) as the Victualler with his wife Mary (39 and four sons William, Peter, John and (name illegible) and 2 daughters. The Post Office Directory still lists William as the licensee in 1855.
1858 James Bodiam (licensee records and also recorded in Melville's Directory of Kent for 1858).
The 1861 Census records William Bodiam (59) as the Victualler with his wife Amy (46), two sons John (13) and Frank (11) and two daughters Ann (9) and Ellen (7). The 1871 Census records Amy Bodiam (56) widow as Innkeeper and her son John (23) as Assistant Innkeeper. No other persons were present on census night.
In 1873 W.H. Bryant is recorded as the Licensee. Maybe considered one of its most unscrupulous visitors over the years was a man by the name of Tommy Atkins. In 1873 27-year-old Tommy Atkins was seen by the pub Ostler begging for food at the pub before being apprehended near West Kingsdown and arrested for the murder of 37-year-old PC Israel May near the Snodland turnpike gate on the road to West Malling.  He was later convicted on a charge of manslaughter and served 15 years in prison before emigrating to the United States. The full story of this incident can be read in Events – 1873 – The death of PC Israel May.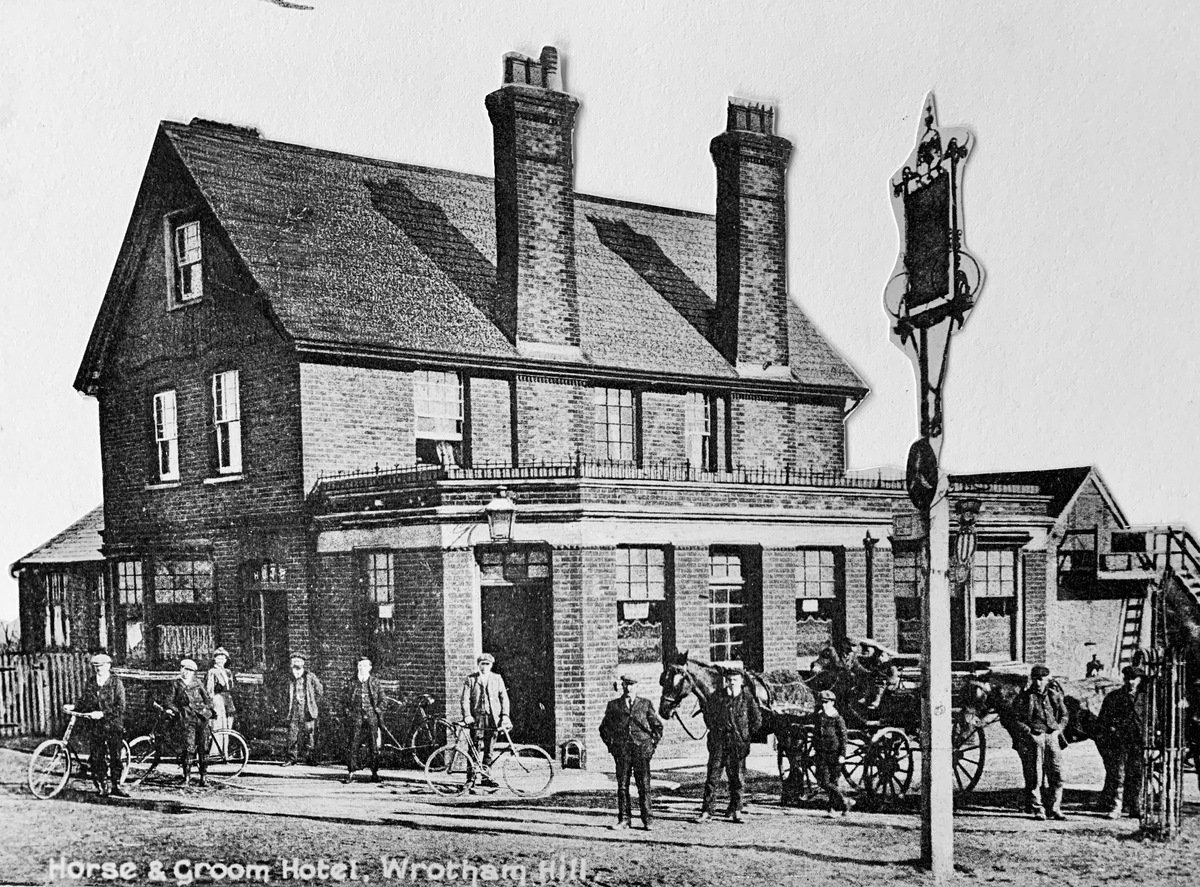 The 1881 Census records William Haysman (55 years old) as the Publican, his wife Maria (52), their son William (25) Agricultural Labourer and 5 daughters, Rachel (20), Elizabeth (18), Alice (12), Rose (10) and Clara (6). John Seal, 58-year-old Agricultural Labourer also lodged at the premises. The 1891 Census records the same William Haysman as the Publican, his wife Maria (61) and two daughters, Rose (20) barmaid and Clara (16). In addition, there were two young lads from Hastings living there as part of the household, James Roberts (11) and Willie Roberts (9). John Seal, by now a 68-year-old Agricultural Labourer was still lodging at the premises. There is an online record that William Snr died in 1905 aged 79 and is buried in St Mary's churchyard, Stansted although he is not listed in the Church headstone records.
In 1898 Thomas May was recorded as the Licensee. In 1899 Stephen Newing is recorded in Kelly's directory and his name is repeated in 1907 and 1911. The 1901 Census records Thomas May (63 years old) as the Licensed Victualler, his wife Katherine (34) and a daughter also called Katherine (1 month). There was also a 14-year-old resident Ostler/Groom called Ernest, his surname is unknown.
The 1911 Census records Stephen Daniel Newing (51 years old) as a Hotel Keeper (15 rooms), his wife Helen (48), Stephen Brooks (21) an Ostler, and 3 boarders from Brisbane, Australia – Bertie Wardlow (36), Florence Marshall (23) and Horatia Wardlow (4) as being present.
The licensee records of 1915 list Ernest Henry Pankhurst as the Licensee and Kelly's Directory for 1934 again lists Ernest as the licensee.
It appears that Samuel Gould (age 41) became the landlord sometime between 1935 and 1938 after previously being a chauffeur/mechanic at Court Lodge, Stansted. The 1939 Register records Samuel Gould (45 years old) as Licensed Victualler, his wife Ruby (37), two redacted entries for persons under a certain age, Harold Thacker (32) barman, John David (50) Vocalist and Agnes David (55) housewife. Sadly, Samuel died in 1941 aged 47. His son, Edward died in May 1945 aged 19 during mopping up operations in Northern Germany at the end of WW2 whilst serving in the Royal Scots Regiment. Ruby took over running the pub and is listed as the licensee in 1941.
Editor's Note: a biography of Edward Gould is included in the People>Memorials section of this website.
1944 Frederick B. Nicol – licensee (local knowledge). 1947 Harold C. Sears – licensee (local knowledge).
Another interesting character who was a regular at the pub during the late 1950s and early 1960s was Lieutenant Colonel Alfred Daniel Wintle MC (1897-1966) who lived at nearby Coldharbour. He was one of the most colourful residents of Stansted, serving in two world wars with distinction, and making several escapes from imprisonment and sustaining several serious injuries. He is famous for taking on the English legal system through to the House of Lords. He has appeared on 'This is you Life' and 'Desert Island Discs'.
Editor's Note: a biography of Lieutenant Colonel Wintle is included in the People>Luminaries section of the website.
1960 Horace G. Mills – licensee (local knowledge). 1968 Peter E. Putney – licensee (local knowledge). 1970 Alan H. Smith – licensee (local knowledge). 2009 Pat and Bridie – licensee (local knowledge).
The pub was renovated and repurposed as a Gastropub in 2011 but was subsequently closed and sold in 2016. The building has recently been converted into a detached residential property by the current owners.
Author: Philip Hall
Additional Research: Dick Hogbin
Editor: Tony Piper
Acknowledgements: www.dover-kent.com
Last Updated: 10 January 2022