The following recollections of Stansted Hockey Club, and photos extracted from newspaper articles, have been kindly provided by Sheila Parker (née Brown).
I very much enjoyed the five years that the Hockey Club existed – it was great fun.  Both Dawn Francis and I had left School in 1949, myself at the beginning of the year and Dawn in the summer, both in our mid-teens and were both employed as Secretaries.  In those days everyone worked a five and half day week, including Saturdays until 1 pm.  What to do in spare time in Stansted for the rest of the weekend?
In 1949 Dawn Francis (née Hubble) was the Stansted Church Organist and I was in the choir at each Sunday morning in church.  At that time the Vicar, Canon Williams, lived in Stansted Rectory and occasional evening services were held in Fairseat.  One Sunday Dawn and I were talking after church with Harold Murphy about the previous day's football match that had been played in the village.  I cannot remember anything about it except Stansted didn't win.  Stansted also had always had a very good and well established cricket team, playing very regularly, but never a football team.
Note: Information on the Stansted Cricket Club may be found on the 'Groups' page.
In 1949 all the villages young men aged 18 and over were doing National Service.  Anyway one of us said "Wouldn't it be good to have a Hockey Team", Mr. Murphy suggested "Call a meeting to see what response you get, I'll help you in any way I can".  The meeting took place in the small schoolroom and the response was better than expected, even some men turned up.  Good discussion about whether to have mixed team, what to name the team and colour of uniforms etc.  We decided to be all female, maybe a mixed team play would be too rough!
Harold Murphy was made Chairman.  He was husband of the Headmistress of Stansted School, one time Chairman of the Parish Council, and a very hard working member of the community.  He proved to be the driving force, a great help, it probably wouldn't have happened at all without him! He found Presidents and sponsors. He even managed to find someone to provide the timber and have goal posts made.  He arranged all our fixtures, both home and away and had very 'posh' fixture lists printed. During the latter part of 1949 he arranged coaching sessions and several friendly matches, just to get things rolling.  Very few real games that year.
Dawn and I were Captain and Vice-Captain and Frank Hills volunteered to act as umpire.  The players included Maureen and Sheila Knight, Jean Harris, Vera Hills, Dawn Hubble, Camilla Martin, Joy Haseldine. Hazel Osborne, Vera Mills, Margery Mills, Olive Foxon, two Carr sisters from Fawkham. Julie Cole, Sylvia Canon. Noel McMaster and myself. Occasionally 2 sisters from Borough Green and also Dr.Bolton's wife who really played for Sevenoaks Ladies. Somehow we were never short of players.
We had no pavilion or sports hall so we had to hire the small classroom in the local school, with infant sized tables and chairs, as a changing room and for after-match hospitality for our opponents etc.  I think changing in those days was just involved removing muddy shoes!
Mrs. Whatman (Ashley's mum) and Grace Usher, used to do the catering for the Stansted Cricket Club and kindly provided after match refreshments for the Hockey Club.  Now I have never been privileged to partake of a Cricket tea but I have always understood they were really something special, sandwiches, scones, buns and cakes, and these two ladies were renowned cooks.
Remembering that the classroom had chairs for very small people and lighting by paraffin lamps.  How they managed to boil enough water for tea for about 25 people I really cannot remember.  Something called a Primus stove, methylated spirits or paraffin, a blue flame and having to pump something springs to mind.
Usually after game refreshments at other clubs consisted of a cup of tea and sticky bun!  We had a full tea spread and built a wonderful reputation for our hospitality, everybody loved coming to Stansted.  We played teams from Aylesford Paper Mills, Sharps Creamy Toffee works in Maidstone (Mr. Murphy always asked for a bags of Toffees which he would take round the coach, sweets were still rationed at that time).  Foster Clark Custard, Tiling Stevens, Blaw Knox, J E Hall Dartford, Standard Cable & Wireless Foots Cray, Morphy Richards, Kolster Brand, Barclays Bank Bexleyheath, and Eltham Teacher Training College who were all sports teachers and who one year beat us 14-0.
One Saturday every year a Tournament was held at Aylesford Paper Mills.  Five aside teams played for something like 10 minutes each way in a knock-out competition.  One year it rained non-stop all day and we were all like drowned rats, Mr. Murphy distributed Glucose tablets to us all to ward of colds and illness.
For away games we hired a coach to take us to the venue and we used to offer seats to anyone who would like to spend two or three hours in the nearest town.  They would be dropped off and picked up after the game for the journey home and this helped towards the cost of the coach.  Not many people had cars in those days and not many women drove anyway, so it was a bit of a treat.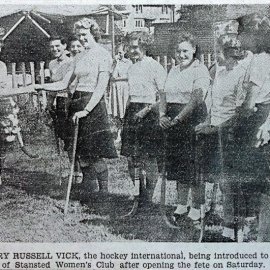 As a group we became very involved in village events.  We always managed to get the job of organising the teas at the local fetes.
On Saturdays nights we used to go out dancing to Greenways, quite a respectable sort of nightclub in those days, our ankles and shins black and blue and swollen, sometimes hardly able to walk, let alone dance!
Mrs. Murphy, the Head teacher retired in 1953 after 35 years and we were asked to find alternative changing facilities.  I remember it was suggested we ask the Cricket Club if we could use their Pavilion during the winter months as they mainly used it in the summer.  We did approach them but they were not very nice at all and didn't take kindly to the idea so we had to then raise money and buy a hut of our own.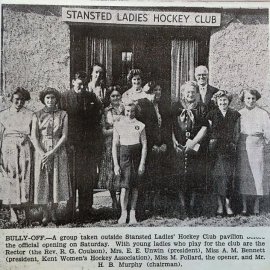 This was achieved in 1955 and it was officially opened by Miss A M Bennet President of the Kent Woman's Hockey Association, by this time I was married and had left the village.
I cannot find the reason why, when, or how the end of the Hockey Club came about.  I can only find two people now who actually played at that time, Dawn Francis and Hazel Horne and I have asked them both. Hazel said she thought it just ran out of available players and sort of just fizzled out.  Several of us married and due to the lack of housing in the village settled elsewhere, also one or two families managed to get council houses in local villages.
I believe that subsequently the Hockey Hut was used as a Village Hall, for Horticultural Society Shows, Fetes, wedding receptions and various other events until Stansted Village Hall arrived in the mid-60s.  A while ago I was told that a couple last year had their Golden Wedding Celebrations in Stansted Village Hall as their original wedding reception was held in the Stansted Hockey Hut!
The following link is to the minutes of the Hockey Club AGM held in July 1952 and recorded in the Stansted Parish Notes.