Fatal Shooting in Stansted
On Saturday the 29th December 2007 the police were alerted to a man in Tumblefield Road, Stansted, brandishing a gun. Upon arrival, the man pointed the gun at the police and they opened fire and killed him.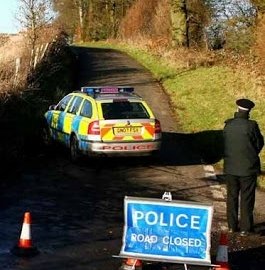 Local resident Reg Riggs says that he was in the Black Horse the previous evening (Friday 28th December) with Ashley Whatman and others and they fell into conversation with the man in question who was about 35-40 years old.  He had said that he had family members living in Labour in Vain Road, Stansted, but did not live in the village himself. He indicated that he had marital difficulties and tried to chat up the barmaid.  When she left at closing time he followed her out and Reg and Ashley were concerned for her safety so followed him out to make sure that nothing untoward happened.
Apparently the man then parked his car in the Walton's farmyard and slept there for the night. In the morning he walked down Tumblefield Road with a gun (which turned out to be a replica) and about 100 yards up the hill from Stone Rede confronted the Police who shot him dead.
Pub landlady Anne Roberts said she and other staff had noticed a man who appeared "troubled" in the Black Horse in Tumblefield Road on Friday night. She said: "He stood out… he told us he was originally from this area, but he now lived in Wiltshire or Dorset. "He said he was on a trip down memory lane." Ms. Roberts said the man was white, balding and in his mid to late 30s.

The following news story is from the Daily Mail published on 22 February 2010 following the inquest.
Police shot dead a man who was pointing a plastic gun after they mistook it for an Uzi-type machine gun, an inquest at Gravesend Coroner's Court heard today. Dayniel Tucker was fatally shot by firearms officers after he called police to the scene claiming he had seen a man pointing a gun at him.  The 39-year-old engineer, a precision engineer, of Adisham Green, Sittingbourne was described by his family as 'a loving brother, uncle and godfather'. He was single with no children and had suffered from depression and seasonal affective disorder.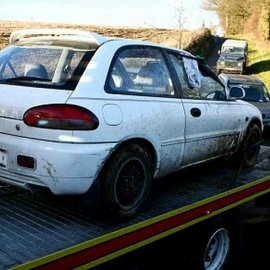 Police found his car, a white Mitsubishi Colt, in a field bordering Tumblefield Road in Stansted, with a hose connected to the exhaust pipe and the vehicle's catalytic converter removed.  Toxicology expert Dr Fiona Perry told the hearing that tests on Mr Tucker's body found he had traces of alcohol, cannabis and carbon monoxide in his body when he died on the morning of December 29, 2007 and that he was "likely to have been under the influence of drugs at the time of his death".
Opening the jury inquest, lawyer Catherine Milson said Mr Tucker had spent the previous evening in the Black Horse pub in Stansted village where he had drunk between eight and 10 vodka and Red Bulls followed by a double vodka.  While there he chatted to barmaid Heidi Bradfield who 'had a feeling that he was deeply sad', Miss Milson said.  Mr Tucker, who was single and lived alone in Adisham Green, Sittingbourne, told her he was staying at a local B&B but this was later found not to exist and it was not known where he actually did spend the night. [Editor's note: It is thought that he spent the night in his car in Walton's Farm, Tumblefield Road).
Miss Milson said that at 7.51am the next morning Kent Police received a 999 call from a man who identified himself as Dayniel Tucker and reported that 'he had seen a person who was pointing a firearm at him'.  A police car was promptly sent to the scene, she said, while the force communications centre phoned the caller back to ask him to describe what the gun looked like. He told her it looked like an Uzi-type sub-machine gun before hanging up.
At this stage the incident was rated by the Police to be medium risk as it was considered unlikely there was a male as he had described with that type of firearm, Miss Milson said. However firearms officers were duly sent to the scene.  Meanwhile two police constables arrived in Tumblefield Road and found Mr Tucker standing with something concealed in his jacket. They called out: 'Are you OK mate?' but he ignored them and walked away.  They took further orders not to challenge him but to monitor him and keep him in sight until the arrival of the armed response unit.
The officers also noticed Mr Tucker's car with hose attached in the field, and noted that 'he may have been trying to commit suicide', Miss Milson said.  At 8.27am two armed response vehicles arrived in the village and it was agreed that firearms officers would approach Mr Tucker from a distance and if his weapon was visible they would identify themselves as police and detain him. If a weapon was not visible then they were to drive up to him in two cars and issue a verbal challenge to let him know they were armed and he could be in danger.
As they approached him one officer shouted out 'armed police, armed police', and observed he had something concealed. When they were about 20 metres away from him, the officer, referred to only as 'Officer A' in the inquest, saw him take a gun from his jacket and point it directly at him.  Miss Milson said: 'As Mr Tucker did that he took up a position where his feet were apart and he was holding the gun with both hands holding it.' She said that Officer A shouted out: 'Armed police, drop the weapon, drop the weapon now.'  Miss Milson said that, believing he was in danger, he fired a shot from his firearm, which was closely followed by a shot from Officer C. Mr Tucker fell to the ground and an ambulance was called but he was pronounced dead at 8.57am.
Franco Tomei, a firearms expert for the Home Office's Forensic Science Services, told the hearing that at 'first glance' the weapon looked like an Uzi submachine gun which fires 9mm cartridges at a rate of 60 rounds per minute, can pierce through metal and are fatal over a range of 400m.  Mr Tomei, who told the inquest that he was asked to attend the scene of the shooting by police, said: 'I'm very familiar with the Uzi. Until I bent down and picked it up I wasn't aware that it was anything other than genuine. 'Because of the weight and how it felt I could tell it wasn't genuine. 'It appeared to have been made of plastic.'  He told the jury that the sub-machine guns were normally used in the military but were available to the public to buy in America and other countries abroad. Mr Tomei added that the replica guns were 'readily available'.  He said: 'My feeling is under the current climate that we live in today the risk of being seen on the street with what looks like a real gun is quite high in the sense of the reaction it may elicit from the police.'
The jury heard that Mr Tucker, who was just weeks away from his 40th birthday, was shot twice – once in the right upper chest and once in the left groin by two police Heckler and Koch G36 rifles. They were told the police guns were 'working normally'.  Home Office pathologist Dr David Rouse said he thought the injury to the groin was sustained first and would not have incapacitated the victim. But, he said, the second shot to the chest resulted in 'instant death'.  Dr Rouse said the bullet had broken through two bones, the carotid artery, the top of the lung, two spinal vertebrae and the spinal cord. By severing the carotid artery, Mr Tucker could have lost two to three litres of blood within 'a matter of seconds'.
Dr Rouse said: 'The problem with losing that amount of blood if the blood pressure falls and you get a loss of blood supply to the brain, the net result was the rapid collapse of Mr Tucker.  By destroying the spinal cord, you've lost the nerves going to the legs which causes immediate collapse.  The pathologist told the jury the bullets were fired from at least two to three feet away.  Dr Rouse added that he found slight bruising to his arms, but otherwise he was a 'perfectly healthy man' who was not on any medication."
An Independent Police Complaints Commission (IPCC) investigation had previously concluded that their actions were justified. IPCC Commissioner Mike Franklin said: "The events of the 29 December 2007 have had a lasting impact on all involved. Mr Tucker's family and friends lost a loved one in tragic circumstances, and the firearms officers have to live with the fact that they shot and killed a man."  He said officers were equipped with Tasers and baton rounds, but the circumstances meant the use of less lethal weapons was not an option.
Author: Dick Hogbin
Editor: Tony Piper
Contributors: N/A
Acknowledgements: The Daily Mail
Last Updated: 05 December 2019