Stansted Floods - June 2019
On Monday, 10th June 2019 South East England was hit by a day of torrential rain the likes of which was outside of living memory.  Stansted and Fairseat received over 6 inches of rain in less than 24 hours which is about two to three months worth of normal rainfall.
By nightfall water was cascading down Stansted Hill and Tumblefield Road which then joined the field run-off water at the War Memorial.  Malthouse Road subsequently became a fast flowing river which left the road and ran through the field.  It emerged at the far end of the field by the pumping station and continued on the road towards the Old Malt House and beyond to Berry's Maple.
The video was taken by Dick Hogbin at 23:00 on 10 June 2019 and shows a torrent of water flowing down Malthouse Road.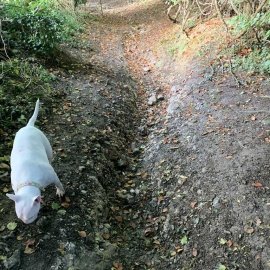 Elsewhere in the Parish minor damage was caused by localised flooding and fast flowing water, the image shows a gully created in the solid flint bed of Wise's Lane, caused by the storm.  A passing English Bull Terrier is included for scale!
In November 2019 The Times newspaper published an article about the aftermath of flooding and used as a case study the difficulties suffered by Chris and Tara Smith of Berry's Maple in dealing with their insurers after the June downpour. The article follows: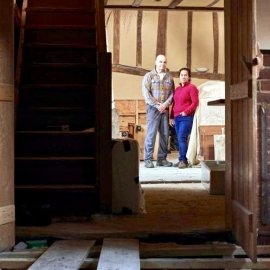 'We thought we were covered'
Tara Smith, 45, lives with her husband, Christopher, 57, and their four children, in a grade II listed farmhouse in the (chalk) North Downs, near Sevenoaks. In June five inches of rain fell in 24 hours.
"I remember standing in the kitchen making myself a cup of tea and going up to bed at 9 o'clock. About two and a half hours later we heard a loud noise. My husband discovered the water was about a foot high in the house."
NFU Mutual, the couple's buildings insurer, sprang into action, sending a loss assessor and organising alternative accommodation.
Five months on, the family are living in rental property, while their home is being rebuilt.
However, when the couple contacted their contents insurer, Towergate, they discovered they were not covered.
The Smiths had paid premiums for 35 years, but after a claim in 2017, Towergate decided it would not renew their policy. Until the flood, the Smiths were unaware of this.
After an investigation, Towergate admitted that it had failed to inform the Smiths of its decision to cancel their policy and paid them £250 in compensation. However, their present claim remains outstanding.
Until the issue is resolved, the Smiths are unable to secure alternative insurance.
Tara says: "It is bad enough to have a disaster like this happen, but to find out when you need to claim, that your insurer has let you down is completely unhelpful."
Towergate says: "In the small number of cases where we are unable or choose not to renew a customer's policy we have policies in place to communicate this decision to customers in good time for them to seek alternative arrangements. Whilst we believe our processes are sound it does not ultimately preclude human error."
Author: Dick Hogbin
Editor: Tony Piper
Contributors: N/A
Acknowledgements: The Times Newspaper
Last Updated: 08 November 2019