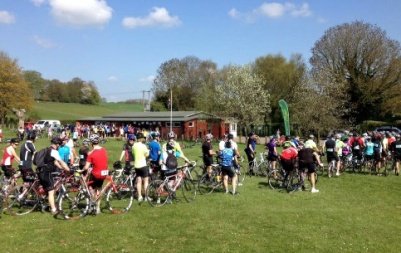 The Cloisters Bike ride was started in 2009 to raise money for the extension to St Marys church Stansted. Over the raised it has raised over £73,000 with over 450 cyclists taking part. The idea was conceived by Tom and Poly Falconer, latterly being run by Moira Green.
The 'Cloisters Bike Ride' first took place on the first May Bank Holiday Monday in 2009 in order to raise money for the Cloisters extension at St Mary's Church, Stansted. It was the brainchild of Tom and Polly Falconer, Tom being a keen cyclist himself and of course, he knew so many of the lovely lanes in our area, and what makes a good cycle ride. Tom and Polly ran it with a wonderful group of volunteers until 2018 when Moira Green took over and ran it on behalf of the Heart of Kent Hospice and St Mary's church, Stansted.
From 2009 to 2017 the bike rides raised £73,092 and contributed to the successful building of the Cloisters extension at St Mary's Church. 2018 and 2019 raised £8,809 for the Heart of Kent Hospice and £7,365 for the church. The bike ride did not take place in 2020 or 2021 due to the Covid19 pandemic.
The Cloisters Bike Ride was unusual in that it was entirely run by volunteers (most charity bike rides are actually organised by professionals). Food and enjoying each other's company was key and all riders were offered breakfast, snacks, lunch at St John's Centre in Meopham, and tea and cakes back at Stansted Village Hall.
Stansted Village Hall and the Recreation Ground were the start and finish for the rides. The Cloisters Bike Ride consisted of 3 different rides, the 44-mile Challenge, the 23-mile Classic and the 13-mile Cruise, the idea being that they were suitable for the whole family, from the very young being towed behind their parents, to children and adults of varying levels of fitness. However the 44 mile course was tough, many people who came were surprised by the ups and downs of the North Downs countryside.
For 2 years in 2014 and 2015, a second 100k ride was organised in September which was very successful, but stretched volunteer resources too far!
In the last 6 years, the Cloisters Bike Ride typically had about 450 cyclists taking part. Every participant received a medal. John Mattick took great photos every year. The team needed to lay on this event included teams to put up and remove the signs, sweeper vehicles to pick up anyone who couldn't complete, a registration team, the breakfast, lunch and tea teams, the people who manned the checkpoints, the starters and technical support.