Stansted Armistice Centenary Exhibition
The 100 year anniversary of the end of World War One was marked in the Parish by a well attended Remembrance Day service and a six-day armistice centenary exhibition.
The Exhibition focused upon community life and times while commemorating the Fallen from the three villages of Stansted, Fairseat, and Vigo, which make up the church parish.  It emphasised the family life of the casualties and included an outline of 'lost casualties' who were born in the parish but where their memorials are probably recorded elsewhere.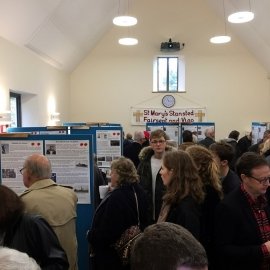 The five sections; 140 panels, three research papers, a dozen personal recollections, six studies of prominent local individuals and a 45 minutes audio visual display ensured there was material to suit a wide range of interests.
The exhibition ran from the 11th to 18th November 2018, and was well attended with more than 600 visitors and was helped greatly by the powerful presence of the silhouette figures, particularly as they received their scarlet poppies, and later their move to the hillside above the Stansted war memorial as can be seen in the photograph.
Spanning both World Wars, the interwar years, and briefly looking at the loss and replacement of the war memorial statue, visitors were overwhelmingly positive in their comments to stewards and through the visitors' book, where some 140 written comments were recorded. A few 'correct and amend' notes helpfully drew attention to points to be adjusted in a forthcoming booklet.
Particularly encouraging were the contacts made with descendants of the Fallen, an evacuee now resident in Australia and a family who had occupied buildings vacated by Allied Troops after D-Day in 1944 and would in time be the start of Vigo as a thriving community.
As a project it was about two years in the making. A team of five volunteered in response to a Parish Council advert in the Notes. They were helped consistently by an invited editor and later by music and IT specialist. A broader team of volunteers staffed the six days that the exhibition was open. The energy and enthusiasm of all concerned made this event so successful.
A booklet publication is being developed for publication to all residents in the Stansted, Fairseat, and Vigo villages and should be available in late 2019.
Note: Further information on the history of the Stansted War Memorial statue can be found under the 'Landmarks' page within the 'Places' section.