Murder on the A20 near Stansted
Three of the best-known names in English law and order in the middle years of the last century were thrown together in 1947 after the body of a 48-year-old woman, Dagmar Petrzywalski, was found on the A20 halfway down Wrotham Hill.  Those men were Robert Fabian, Milford Stevenson and Albert Pierrepoint.
[Note: the content of this article is based on a similar item on the Wrotham History Society website (www.wrothamhistorical.org.uk) and is supplemented with details taken from the 2012 book 'Murder at Wrotham Hill' by Diana Souhami. All the photographs in this article are taken from that book].
At the end of October 1946 Dagmar Petrzywalski, known locally as Miss Peters, left home to try to hitch a lift via London to visit relatives in Woking.  She lived in a hut-like bungalow called 'The Vic' in Hever Avenue, West Kingsdown on a plot next to 'Houston', her mother's house. She had been employed by the Post Office as a telephone operator and had taken early retirement five years earlier. Sadly she did not arrive in Woking and her body was found by a passing lorry driver halfway down Wrotham Hill behind bushes at the junction of the A20 and Devil's Kitchen.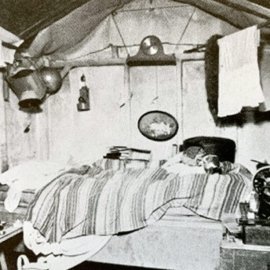 Murder Squad detectives, under Chief Inspector Robert 'Bob' Fabian from Scotland Yard, were allocated the case. Robert Fabian, who led the murder investigation, was the subject of a popular BBC TV series in the 1950s and became famous as 'Fabian of the Yard'.
Fabian was already working on a local murder case and knew the area well. Three months earlier, five miles away in woodland near Fawkham Green, a man walking his dog had found the body of an eleven-year-old girl, Sheila Martin. She had been raped and then strangled with her own hairband. The investigating team felt that a local boy was responsible but was unable to find him. With the discovery of another body, the worry was that Sheila Martin's murderer had struck again.
Dagmar Petrzywalski's body was found in brambles by a hedgerow on the high side of Wrotham Hill at the point where Labour In Vain Road used to meet Wrotham Hill.  Behind the corpse was a steep ravine leading to the top of the hill in an area known locally as Hell's Kitchen.
The local doctor was called to the scene. He was Dr Norman Hay-Bolton who lived at West House, Wrotham and who served as the GP for several villages in the area. Once a week he held morning surgery at West Kingsdown and then an afternoon surgery in Farningham.  Dr Hay-Bolton certified Miss Petrzywalsi's death but did not investigate too closely for fear of destroying evidence. Detailed examinations were performed by Dr Keith Simpson a Home Office pathologist who was a medical author and also ran a Harley Street practice. His 1978 autobiography was called 'Forty Years of Murder'.
The body was taken for a post mortem examination to Borough Green mortuary which was housed in a small make-shift building with a corrugated iron roof next to the fire station. There was no sign of a struggle or of sexual assault and the cause of death was a fractured neck and strangulation with a plain cloth ligature (a scarf).
Following interviews with her mother the Police were anxious to find three missing possible clues: an extremely small terrier puppy Miss Peters had apparently bought the previous day in Maidstone Market and which she may have been carrying in a yellow crocheted handbag made by her sister-in-law; a brown horseshoe-shaped purse of chrome leather; and a Yale lock key.
The movements of hundreds of people, mainly lorry drivers, were checked but to no avail. Eventually, her sister-in-law was asked to make another string bag like the one that was missing. When a photograph of it was circulated in newspapers, a young man came forward saying he had found a similar bag in a lake near the cider factory in East Malling. This led to the discovery that a 45-year-old man named Sidney Sinclair, one of the lorry drivers who had already been interviewed, was the only one known to have been both in the vicinity of the cider factory and having travelled by way of Wrotham Hill. Confronted with the evidence, he admitted to having met Miss Petrzywalski but claimed she died during a struggle after she tried to steal his wallet.
During investigations, it became clear that Sidney Sinclair was an assumed name and that his real name was Harold Hagger. He was well known to the Police, having had 16 convictions including one for an assault on a woman. He was also an undiscovered bigamist.
At his trial, he was defended by Melford Stevenson, a King's Counsel. Notwithstanding medical evidence that Sinclair, from Little Abingdon, Cambridgeshire, had suffered from blackouts and headaches, and a declaration from his wife Daisy Emily Sinclair that 'he's been one of the best husbands,' on March 7, 1947, after a two-day trial the jury took little more than half an hour to find him guilty.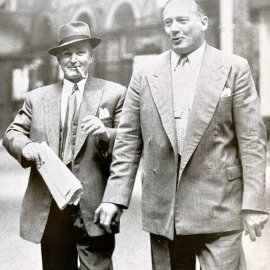 Sinclair was sentenced to death by Mr Justice Byrne, who had only recently been made a judge, and whose first capital sentence this was. He was taken to Wandsworth prison and was hanged on 18th March 1947. The hangman was Albert Pierrepoint who had only recently returned from the execution of 72 convicted Nazis in Germany after the War Crimes trials at Nuremberg.
Melford Stevenson's most famous case was when he defended Ruth Ellis, who had shot her lover. She was convicted and in 1955 she became the last woman to hang in England. Stevenson went on to become a judge with a reputation for severity; in 1969 he handed down the longest jail sentence in English legal history when he gave the Kray twins a sentence of 30 years.
Within a year of the case, Dagmar's mother sold her house and her daughter's hut to a chicken farmer who knocked down both buildings and put up chicken coops. She went to live with her son in Woking where she died in 1956.
Author: Dick Hogbin
Editor: Tony Piper
Contributors: N/A
Acknowledgements: Wrotham History Society, 'Murder at Wrotham Hill' by Diana Souhami
Last Updated: 10 December 2019